What does this course cover?
This course will help you to understand in detail how to manage the most important resource in the world - fresh water. 
We will focus on small scale strategies for farms, neighbourhoods and communities. 
We start work at the top of the watershed where we can more easily influence what happens and directly observe and benefit from the results. 
In this course, you will learn how to observe, conceptualise, design and implement integrated and sustainable rainwater harvesting systems. 
You will also understand the principles of rainwater harvesting. Additionally, we will go over the specific techniques you need to make the earthworks which will passively harvest rainwater and grey water within the landscape. 
Through this course, your outlook towards water will be transformed. 
You will feel more confident and optimistic about the future, as you realise that it is in our hands on how to manage this 'scarce' resource and build water security. 
Frequently Asked Questions
Is this course a Live session, or a recorded one?
The Water for every Landscape course, has 2+ hours of pre-recorded content with 22 lectures, 4 tutorials, 4 exercise, several supplementary reading material and videos and a quiz! This means, you can take the course at a time that suits you, and you can watch the lectures as many times as you like. 
When will the course material be available?
The WfeL course will open on 8th August 2021, at 9:00AM IST. 
Why is the course called Water for every Landscape?
Every piece if land, whether it is in the city or in the village, is a hydrological unit. Rainfall is nature's way of hydrating this land. However, mismanagement of the water, hardscaping of surfaces and over dependence on bore well, municipality or canal water, has resulted in our landscapes getting dehydrated. In this course, you will learn how to keep your landscapes hydrated naturally, no matter whether you run a farm, have a backyard garden or manage an urban landscape.
Who is this Water for every Landscape course for? 
This course is for anyone who is faced with the challenge of hydrating their landscape. If you are using municipality or bore well water to hydrate your landscapes, your crops or your garden, you should take this course. It will give you strategies and a path towards water sufficiency with minimum cost and effort. 
Will I be able to manage water in sloping land or dry land after taking this course? 
In this course, we do not focus on what we have done on our farm Aanandaa. Instead we talk about every possible landscape and situation that you may face in your land. Whether you have steep slopes, moderate slopes, dry lands or city scapes, you will understand at conceptual level how to think about water in the environment. Once you get that understanding and learn the accompanying tools & techniques, you will find it easy to solve your water challenges in any part of the world!  
How do I know this course will be good? 
Manisha has earned her stripes as a permaculture practitioner by converting a barren piece of land into a lush green food forest Aanandaa. She is also a trained Permaculture Teacher. A combination of hands on experience and formal training makes her a powerhouse of knowledge. She is also an inspiring and motivating TEDx speaker. Read the testimonials here to see what others have to say about her as a teacher. 
What is the duration of the course? 
The course content of WfeL is about 3 hours long. However, you can go through the course material at your own pace. It will involve some video lectures, reading material, supplementary videos and exercises. It will be important for you to dedicate yourself to the course, to really benefit from it.  
How is this course different from a Permaculture Design Certificate Course? 
This course, is one module of the Permaculture Design Certificate course. In fact, if you take this course now, you will get credit for it when we launch the Permaculture Design Certificate Course, and you will not have to pay for or take this module again.
Do I need some land to take this course?
You don't need to own land to take this course, but you should definitely work with a piece of land to understand and implement the learnings from this course. For the purpose of the course, you can consider your backyard, front lawn, community garden or farm to understand the principles of water management. Hopefully, you will also be able to implement the learnings on the site! 
How long will this course be available to me? 
Once you buy this course, you can view the contents unlimited number of times. However, you are not allowed to share it, use it for training purposes or copy the material for further circulation. All the material is copyright protected by 'Permaculture with MLG'.
I am not able to pay for the course with my credit/debit card. What should I do? 
Our course is hosted on Teachable.com which is a US based platform. If you are based in India, and do not have international transactions activated on your credit or debit card, you may have problem paying. In such a situation, you can simply UPI (PayTM or GooglePay) the payment to us on 62838 99456 and we will register you for the course from the back end.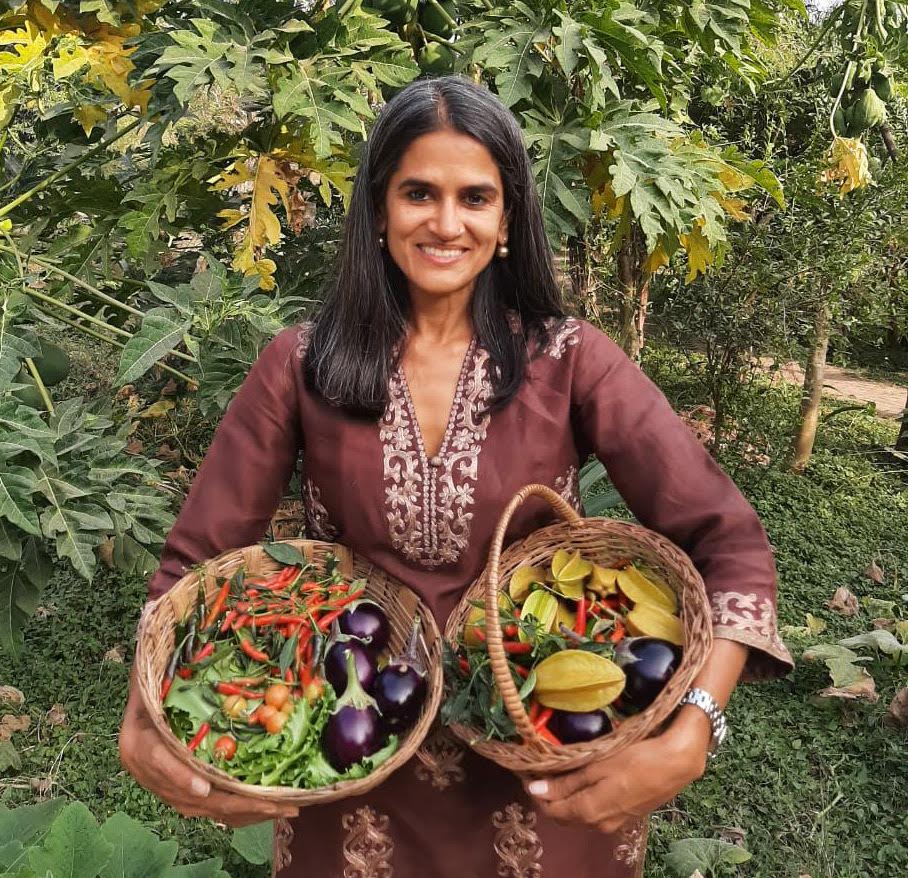 Manisha is a permaculture practitioner and teacher from India. She has been practicing permaculture for 10 years at Aanandaa Permaculture Farm.
Manisha is a marketer by education and profession, and has worked in large corporations for over two decades. A desire to grow her own food, and save a piece of nature for her family, drove her to convert a barren piece of land into a lush green forest, now called Aanandaa.
Manisha believes that permaculture is not an alternate life. In fact, a permaculture way of life can be pursued by anyone, irrespective of their profession and location. She likes to share her experience and knowledge with those who are looking for a life in sync with nature and want to live more consciously.
Through her work and her courses, Manisha has inspired hundreds of people to start a permaculture journey of their own, and create a positive impact on their bodies and their environments. With her online courses, this reach and influence is becoming global in it's impact.
Other courses & consultation from Permaculture with MLG
If you are looking for more advanced courses and consultation for your permaculture project, do check out these offerings from Permaculture with MLG.