Frequently Asked Questions
What is this course all about?
Reading your Land is a course where you learn the tools and techniques to understand your land well. A good permaculture design starts with a good understanding of your land. Too often, people skim over this stage, and simply see the land as a square on a piece of paper. Take it from me, you will not have a robust design without Reading your Land first.
Who is this 'Reading your Land' course for? 
This course is for you if you have a parcel of land which you are planning to develop the permaculture way. The land may have nothing at present, or may already have an orchard or a garden. To transition it into a robust & resilient permaculture landscape, you need to understand the land and your own needs. That is when this course is useful.
Will I be able to design my permaculture garden after this course? 
After this course you will be able to lay the foundation of your permaculture design. The actual design you will learn in the course The Permaculture Design. But you won't be able to  actually make the permaculture design without completing this course first.
How do I know this course will be good? 
Manisha has earned her stripes as a permaculturist by converting a barren piece of land into a lush green food forest. She is also a trained Permaculture Teacher. A combination of hand on experience and formal training makes her a powerhouse of knowledge. She is also an inspiring and motivating TEDx speaker. Take it from us, she's a great teacher!
What is the duration of the course? 
The Reading your Land course is just under an hour. It comprises instruction videos, presentation slides and assignments. While the actual course is, the workbook assignment are quite long. If you have not spent enough time on your land, you may have to go there to complete the exercises and update your workbook.
How is this course different from a Permaculture Design Course? 
A permaculture design certificate course is a very long duration, detailed course for practitioners who are working with a piece of land. This course is one module of the Permaculture Design Course.
Do I need some land to take this course?
Yes, you should have a parcel of lend for which you will specifically complete the exercises in this course. Reading your Land means, you will have some land to read!
How long will this course be available to me? 
Once you buy this course, you can view the contents unlimited number of times. However, you are not allowed to share it, use it for training purposes or copy the material for further circulation. All the material is copyright protected by 'Permaculture with MLG'.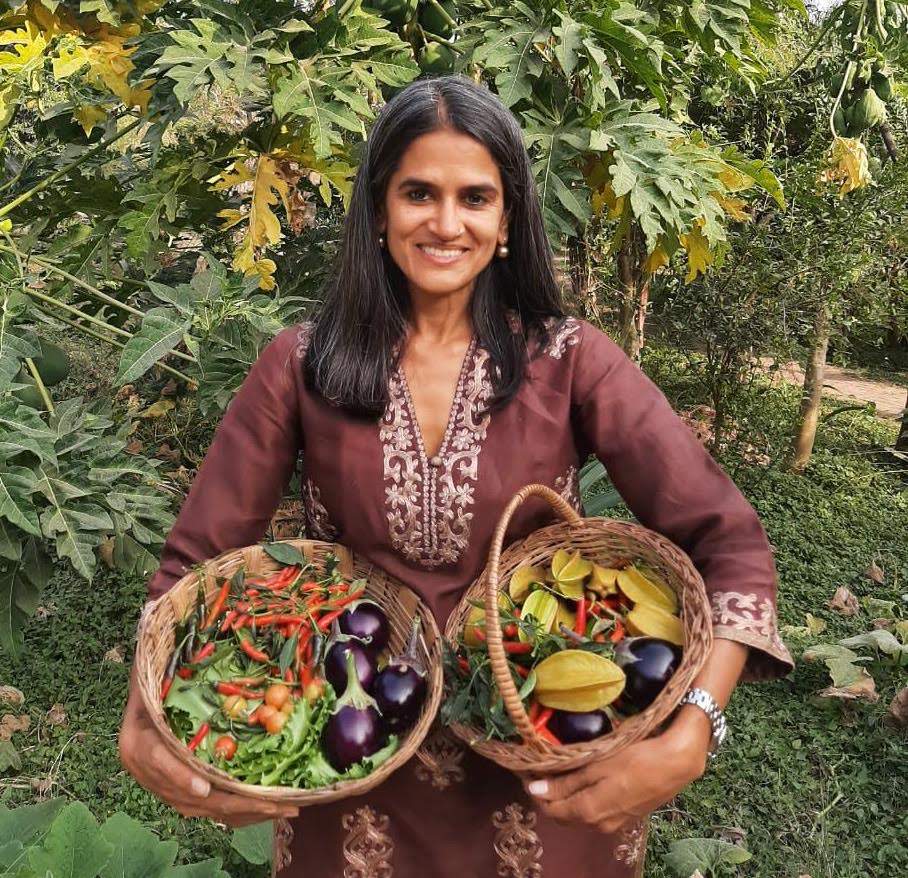 Meet your Instructor!

Manisha is a permaculture practitioner and teacher from India. She has been practicing permaculture for 10 years at Aanandaa Permaculture Farm.
Manisha is a marketer by education and profession, and has worked in large corporations for over two decades. A desire to grow her own food, and save a piece of nature for her family, drove her to convert a barren piece of land into a lush green forest, now called Aanandaa.
Manisha believes that permaculture is not an alternate life. In fact, a permaculture way of life can be pursued by anyone, irrespective of their profession and location. She likes to share her experience and knowledge with those who are looking for a life in sync with nature and want to live more consciously.
Through her work and her courses, Manisha has inspired hundreds of people to start a permaculture journey of their own, and create a positive impact on their bodies and their environments. With her online courses, this reach and influence is becoming global in it's impact.
Check out our other courses & consultation
If you are looking for more advanced courses and consultation for your permaculture project, do check out these offerings from Permaculture with MLG.
Check your inbox to confirm your subscription